Archive for December 11th, 2012
by matt on Dec.11, 2012, under Uncategorized
In 2007 one of my absolute favorite podcasts was Decoder Ring Theatre.
A lot of people were using podcasting to reintroduce Old Time Radio shows from the 30's, 40's, and 50's like The Shadow, X-Minus One, and Bulldog Drummond… but Decoder Ring was actually creating new ones. Based in Canada and populated by a supremely talented acting troupe, they wrote and produced original series in the vein and exact style of the Golden Age of Radio; the cases of hardboiled dick Jack Justice and Trixie Dixon, Girl Detective; the adventures of masked hero The Red Panda and his sidekick The Flying Squirrel; big audio productions with full casts and great effects… just amazing, transporting content executed superbly well on all fronts.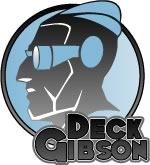 I was fortunate enough to be asked to create and write two half-hour episodes of literally anything I wanted for their Summer Showcase series. I chose to do a science fiction serial. That serial became Deck Gibson: Far Reach Commander. It was filled with everything you'd expect; bubble helmets and ray guns, rocket ships and jet packs, reptilian space pirates and beautiful alien princesses.
But I also tried to add a little more. My goal wasn't to write a parody or a satire or a pastiche… it was to write a genuine and truly awesome Golden Age of Radio-style pulp science fiction series. I wanted to combine the style and aesthetic and innocence of the radio plays of the era with the influences and sensibilities of the serialized science fiction I loved today—shows like Farscape that focused so much on the wonders and possibilities of our universe awaiting us Out There.
The series takes place in a future in which Earthlings have become a race of xenophobic conquerors. All contact with alien species is strictly, brutally forbidden. Deck Gibson is an elite fighter pilot in their feared Quasar Corps when his starfighter is blown off course and drifts beyond Earth's borders. He's rescued by Control, a mysterious entity who speaks to Deck only as a feminine voice over a comm. She commands the Far Reach Fleet. It's the mission of the commanders and their interstellar rocket ships to explore, to discover, to defend. Deck becomes the greatest of the Far Reach Commanders and encounters a universe full of wonders neither he nor any Earthling could ever have imagined.
Deck proved so popular in their Summer Showcase that head Decoder Ring honcho Gregg Taylor asked me to come back and write an entire season of the show for their next year's schedule. I wrote six full-length episodes, including a two-part season finale, all of which were wonderfully cast and gorgeously produced by Gregg and his people. Time constraints and personnel changes/availability prevented us from doing a second season, but I loved the series, and I still do.
I'm not alone. Behind the Failed Cities, it remains the most popular thing I've done. I still get e-mails and tweets asking when we'll see more Deck.
The answer is right around the corner in 2013…
On January 23rd I will be collecting all of my original, unabridged scripts from the entire run of Deck Gibson and releasing them as a new, full-length ebook.
DECK GIBSON: FAR REACH COMMANDER—THE COMPLETE SCRIPTS will also contain brand new content, including the first new Deck Gibson stories since 2008, as well as that absolutely beautiful new cover you see designed and created by Richard Roberts for this edition (I fucking love that thing).
I'm very excited about this book. Like THE FAILED CITIES, it's been a longtime coming and something I've really wanted to see done right. I've worked just as hard as I did on the Definitive Edition of that book to give Deck the treatment he and the rest of the gang deserve.
I hope the fans of the original series will dig having this book, as well as the new Deck Gibson stories they've been asking for (even if they're taking a different form). I also hope those of you who aren't into audio fiction or drama or radio plays will finally be able to enjoy these stories. It's a big, sprawling, adventurous universe, and they're a lot of fun to read and create in your head.
I'll be releasing more details on the contents of the book in the weeks to come. DECK GIBSON: FAR REACH COMMANDER—THE COMPLETE SCRIPTS will be available directly from me as a digital bundle. It will also be available in the Amazon Kindle Store.
Come fly with me, kids.
Comments Off
more...
by matt on Dec.11, 2012, under Uncategorized
I love the holidays. All of them. Even Kwanzaa (HARAMBEE!). It's the one time of year when I hate all of you people just a little less.
Not a lot less. But a little.
So the other day I was trimming my tree and watching the Duck Dynasty Holiday Special (best sitcom writers on television, that show has) and thinking on how I could express that less-than-marginal reduction in my general ire for the Human race.
Then it hit me: monetarily.
As my gift to you this most festive of seasons (except for Roller Derby play-offs, natch) I've created The Failed Cities Holiday Bundle. Here's the deal: for the next two weeks you can purchase the Definitive Edition ebook of my novel THE FAILED CITIES for just $6.99—that's 30% off its arbitrary retail price that I set myself. It contains all of the versions—PDF, MOBI, and ePub—included in the regular bundle for all your digital reading device needs.
But wait. There's more.
As a bonus, The Failed Cities Holiday Bundle includes a PDF version of my short story "Sundae" that I released back in June. "Sundae" has rapidly become one of my best-selling pieces of fiction ever, but until now it was only available for the Kindle. Now you can read it on your desktop or print it out at your convenience. For free.
So… if you weren't in for ten bucks when THE FAILED CITIES (DEFINITIVE EDITION) first dropped, now's your chance to pick it up. If you were planning to buy it as a gift for somebody or bodies, consider the discount and extra story a thank you from me.
And guys: please remember to download the bundle from the page UPLOADnSELL takes you to after you buy. The link is right there for you on the page after you complete payment. It couldn't be simpler. I have no sympathy or time to deal with people who don't take the extra two seconds to read the whole page before closing it down and then bugging me because they weren't e-mailed a file. It's one more click. Don't be a moron.
And by all of that I obviously mean MERRY CHRISTMAS!
The Holiday Bundle evaporates on Christmas Day, so get in on this now.
Comments Off
more...